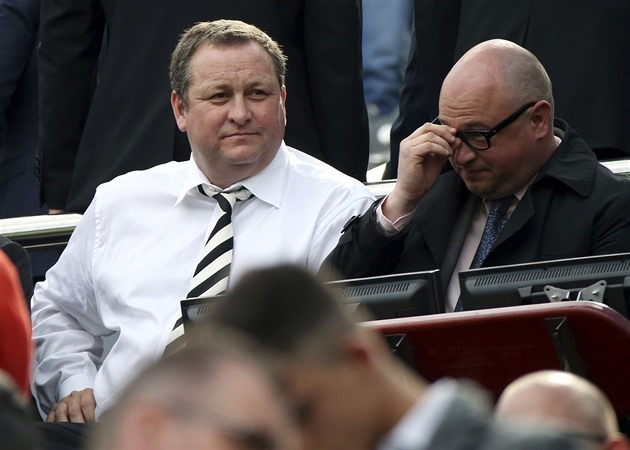 "When he sells, I will only believe," skeptically said Norman Watson, chairman of the club fan club. "Trading information is mostly kept under the lid until it is sold, so this is a very strange thing to me."
The billionaire, 35-year-old and sportsman, Ashley, has been running Newcastle since May 2007. The lovers of football have been very unfriendly – in September a year later, a wave of protests rose.After litigation with him, after only eight months in the position resigned favorite coach Kevin Keegan.
A former Newcastle player in the 1980s and his coach in the 1990s returned to the soccer environment after a three-year break.
The fans were reeling and Ashley turned back – wanted to get rid of the club as soon as possible. At Christmas 2008, he changed his mind, Joe Kinnear put it on the bench, which he said was "definitely better than Fabio Capello, he's my hero. At the end of the season we will be celebrating the move to Europe! "
This vision did not come a little, Newcastle came down from the Premier League. And so Ashley said again: "I sell.But five months later, he backed off again.
That's why skepticism among supporters – the unpopular owner is changing the decision a lot. Overly frequent trainings were exchanged, seven out of ten held more than 28 matches on the bench. The exception was Alan Pardew, who in the 2011/12 season made fifth in the league and screamed 155 matches.
Fans they never accepted it
Ashley does not have a lot of supporters, There are banners in the games with the slogan "Ashley, get out!".Also, boycotts and protests have taken place.
"Ten years later, fans have never received it," Chris Waddle, a former striker of Newcastle, thinks. "He could not tell the media what the club's goals were."
The unpopular owner did not help even renaming the stadium in 2011. James' Park has become Sports Direct Arena, according to Ashley's Business. "For the decade, it was the most important thing to promote his own business," Times Journalist Henry Winter says.The letters from the traditional name had to disappear, although some of the fans were trying to "return" back.
This was succeeded by Wonga.com, who became the main sponsor of Newcastle five years ago and gave the stadium its original name.
Ashley said in May 2015 he would not sell the club until he won a trophy. A year later, shortly before descent, he publicly regretted that Newcastle had bought it at all.
Now it seems to be the closest sale during its ten-year rule. Interestingly, entrepreneur Amanda Staveley, who recently appeared on the Newcastle match with Liverpool, is reportedly interested. "It signals that he has such intentions," said BBC reporter Ian Dennis.
"We are eager to see positive developments," people hope for the AshleyOut.com campaign.The legendary Alan Shearer has also added joyful tweets.