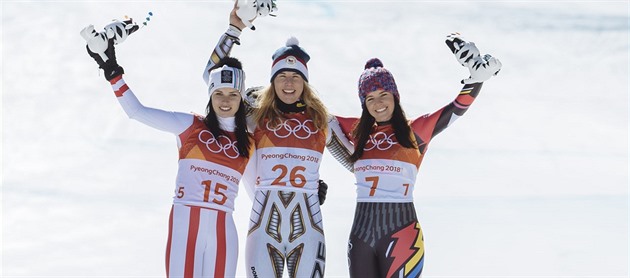 She shocked the whole world, surprised herself. She stared at the results in disbelief and shook her head. "No, that's impossible," the cameras said.
Her astonishment was repeated over and over again.
She was disturbed by a quiet expectation from the second half. Ledecka led by 18 hundreds and she was doing well. Except for a few exceptions, she held the ideal track and rushed to the finish.
The last jump dropped her slightly, dropping to the heels. "I thought I was kneeling on my ass," she admitted.
She stood and punched the tape for one hundredth of a second faster than Anna Veith. Tina Weirathera of Liechtenstein fell third.
"When I was going, I definitely did not think it was a good ride.When something did not work, I was going up: Come on, still make me, you can do the next passage better. And then it happened…", she said," the sensational champion was shaking her head long after the race.
"When I passed the goal and saw the result, I thought it must be a mistake. Will that time change yet?Or did I miss the goal? ", She said with astonishment.
And Eurosport commentator Nick Fellows, who called the Czechs' triumph as the biggest hurdle in the history of the Winter Olympics, reacted discontentedly.
Twenty- has made the biggest success in the history of the Czech downhill skiing.
The Olympic Games have won the bronze medals Olga Charvátová Křížová at the Sarajevo 1984 Congress and Šárka Strachová in the 2010 Vancouver 2010 slalom.
In Pchjongchang, Ledecká is already writing in history , she has been the first in history to have cross-country skiing at the Olympic Games and is also going to start snowboarding.
"I dreamed of being able to combine these two sports, that was my great goal this season.Now I have to re-focus on snowboarding, waiting for qualification, "Ledecká said.
The medal harvest for her will definitely not end for one precious metal, in the parallel giant snowboard slalom it will be the main favorite on Friday.
She is the current world champion and dominated this season World Cup.