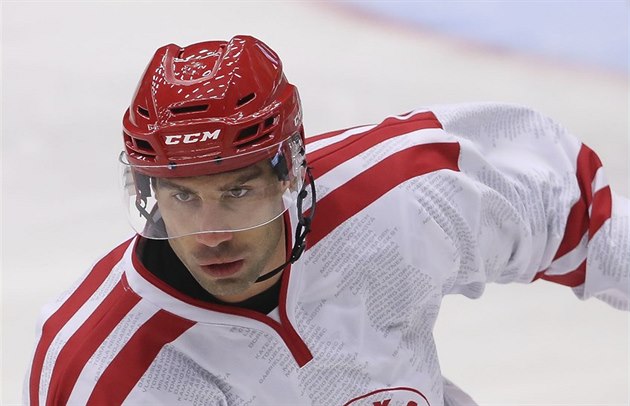 The fact is that the current form is not a worthy silver medalist from the 2006 World Cup and KHL experience.
He played 33 matches in the season but only scored ten points for five goals and assists. He lost space on ice.
That's why Bohumýrský Třinec borrowed him surprisingly on the first day of the New Year for Roman Vlach to Olomouc. Although it's only for monthly hosting, it's a signal for Irgla: pick up or you can lose the position of the Steelmakers next season's contract.
"We were looking for centers and we were offered by Roman Vlach, who is creative and has excellent skating.Zbyněk decided to change because we believe that the change of the environment will be a rhythm for him, which will kick him up for the performances he showed earlier, "explained the sport director Tince Jan Peterek.
Irgl, given the clause in the treaty that he must agree with the exchange, sanctified, even if he could choose, he would probably choose Vítkovice, where he started hockey. "I learned about New Year's Eve around 4 o'clock. It came from Honza Peterk. He asked me if I would agree. I told him to give me some time. I called the agent to talk about what it means to me at all.On the second day I told Honza to do it, "Irgl said yesterday in an interview with the Olomouc web site.
The Vlach felt more blissful.
Nothing against modest Olomouc, but Třinec is a lucrative address in the Czech Republic and his interest is an appreciation for the players. "The reaction was positive," said Vlach to the Ocelars' club. "It was terribly fast. I came to training in Olomouc, then my trainers called me that the exchange took place. I'm very glad I can be in an organization like Třinec. I will do my best to be valid here. "
If he keeps the form, he will be valid. In the last five matches in Olomouc he scored 6 Canadian points for 2 goals and 4 assists. "I do not want to shout, maybe it will go on.Beginning was a bit worse perhaps due to injuries, "reminds of a broken jaw from the first pre-season match. Despite the protective grille, he saw it and moved slowly.
But now he shows graceful sliding and smart hands. As soon as he arrived in Třinec, he went to the team bus and the day before he went to Prague to fight against Sparta, who will stand two rounds in a row. After a 2: 5 defeat in Olomouc he may even be avenged.
Stargate Irgl will prove to the doubters that he can still be a difference player. Za Oceláře played 33 matches in the season, but he took only ten points for five goals and assists.However, the Olomouc fighter Olomouc was missing such a personality and, in addition to attracting spectators, coach Zdeněk Venera believes that the right-hander will add goals, improve the power play.
Yesterday, both exchanges have been reported for training among new teammates. Irgla welcomed manchaft, who is cool, holding together and the sixth place surprising the extralig. The old metal coil on Hynais Street did not spoil the impression. "I came here for hockey, not for vacation. Třinec is a giant, as far as the background is concerned. He's probably the best one in Europe, he can not compete. So whatever a person from Třinec will go anywhere, so as far as the background is concerned, it will go down. But I will concentrate on hockey, "he said. "There's a good bunch. I do not think the problem will fit.Mainly we can do it. "
He is well acquainted with defender Lukáš Galvas from Vítkovice and Petr Strapáč, so he will not be long. It's not time.
While hosting is only a month, but at an important time when he's fighting for play-off to the fullest. "Man plays against boys, knows what hockey is playing. Olomouc likes me. Hockey is honest, skilful. If I say that stupid, it's about going to make something wrong, "Irgl smiled. "Everything will show up in the match. However, hockey is very similar nowadays, but rather in detail. It's mainly about skating, every hockey player is basically an athlete.Hockey is focusing more and more on the particular pattern that is used to play. "
In Pardubice, Irgl will be under the spotlight. "I look forward, but the main thing is to continue the results that the guys had. Collect points. This will be the most important. "
And in a month, we can evaluate who earned the exchange.
Ideally everyone.