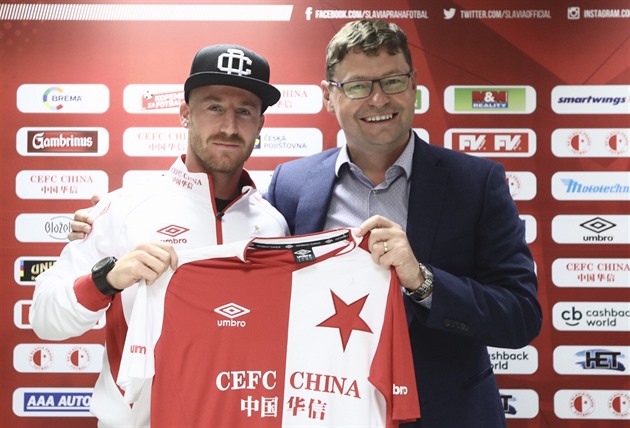 It's not easy to confess in Miroslav Stoch, the new Slavie football post. Those who evaluate it usually agree on one thing: When he has his day, he can play sensational pieces on the pitch.
He will need time in Prague to do two things. That on the lawn can be better than Tuesday night in Nicosia, where against home APOEL (0: 2) he jumped after three training in the base line and with his teammates he still did not understand. And he has already calmed down and can keep watch out of the pitch.
In recent months he has been holding – from Turkey, where he played for Fenerbahce, no scandalous reports have gone. Even Slavia relies on being a different person.Perhaps he wondered at the side of the Czech wife Paula, who gave birth to Tobias in March.
His portrait of Stoch has recently added many tattoos. On the hands of Jesus and the Virgin Mary, the flowers of roses or the inscription of Nitra – he comes from there and already at the age of sixteen he went to England where he taught at the Chelsea Academy. Even dramatic images of ink and brilliant earrings maybe in the eyes of some contributed to the fact that, with the tiny midfielder, besides the legend of exceptional talent, the legendary figurine began to draw. It has begun to blame her for a few big hurts, such as driving under the influence of alcohol or argument with coaches.
"He must land on the ground and realize that everything has its limits. He's a young man buying a beautiful car, a ferrari.Let him buy the helicopter, but honest work and discipline must be, "warned the coach Vladimir Weiss, whose son Stoch soon formed an inseparable two.
The truth is that in his case, even inflating and dissecting little things. Both the Slovak and the Turkish media criticized him for taking pictures of the fun with the shorts pulled up to his chest. Or he played in a video clip of a friend, the Nazi raider Kaidzas, in which he drove his car in the streets of Istanbul and recited the vulgar refrain.
The Slovak journalists hurt him not to face the scandals. Instead of trying to justify or explain what happened, he said, "I'm not talking.And this has been going on for months.
He has also quarreled with the coach of Kozak, who allegedly had an airplane conflict after returning from last year's Euro. Since then, the policy coach has removed his plan from his plans.
That's one Stoch's face. Slavia hopes to show the other in Eden: Christmas has been contributing thousands of euros to charity for years, he has been able to entertain the cabin for a long time and especially: on his field, his right to conquer great missiles, centers and loops.
he began to defeat, then shrugged, "What else? Maybe after a bad start, a good end will come. "That's what Slavia hopes.