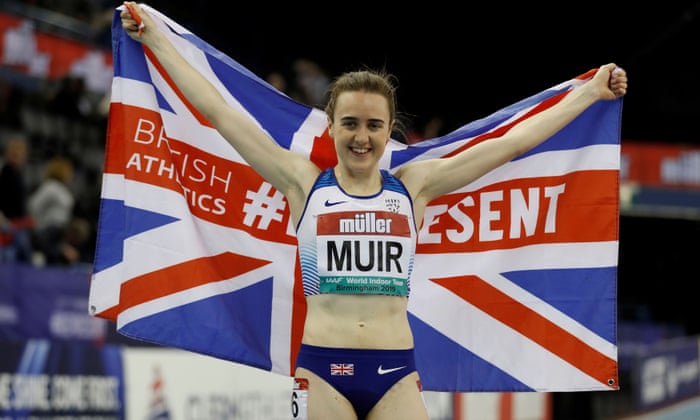 No sooner had Laura Muir obliterated the 31-year-old British indoor mile record by an astonishing five seconds than she started wrapping herself up in cotton wool. She knows the biggest threat to retaining her European 1500m and 3,000m titles in Glasgow could be the February flu rather than anything on two legs. She did not pose for selfies, as she usually does; instead her coach Andy Young handed fans autographed photographs.
A smiling Muir said: "I signed 66 cards – so I hope that's enough for everyone. I didn't want to leave the fans without things but I've got to look after my own health."Laura Muir: 'I don't like taking anything.I don't even drink coffee' Read more
It is surely a wise precaution given how supreme and sublime Muir looked in chasing down Kirsty Wade's 4min 23.86sec, set in 1988, to claim her sixth British record. For good measure her time of 4:18.75 was the third-fastest mile in history and broke her own 1500m national indoor record.
Initially, Muir's pace was steady as she went through halfway bang on schedule in 2:12.But when her pacemaker dropped out and it became a four-lap time-trial the 25-year-old Scot hunted the record down with zealous intent before tumbling over the line.
"It's pretty special to get the record, especially one which has stood for such a long time and from an iconic runner with Kirsty," said Muir. "It's a world lead, the third-fastest ever behind the European and world records so I'll take that."
"For the next two weeks I'll try to stay away from as many people as possible – not that I don't like people, it's just colds are everywhere."Laura Muir (@lauramuiruns)British Record x 2!!!! 1500m split in my mile race today was a new record too