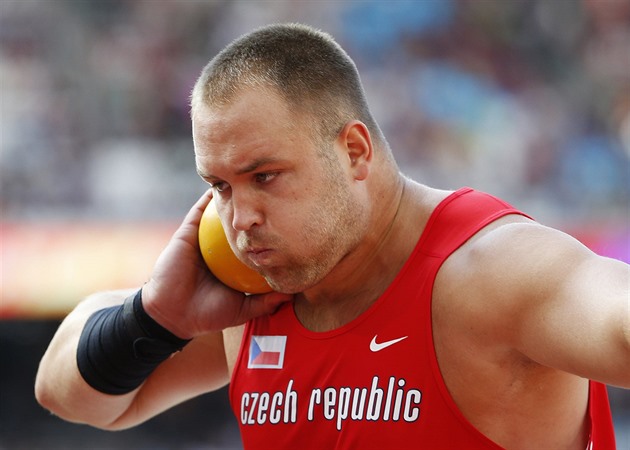 In the open air, he has never qualified for the big events yet. But this year Tomáš Staněk is experiencing a phenomenal season. He surpassed the remarkable record of Remigio Machura when surpassing the 22 meter magical limit by one centimeter, occupying the fourth position in world charts and, in particular, showing a stable performance in each race.
"The circle is fast, hold, so I think it will be good," he told an interview for Czech TV before Saturday's qualifying.
And it really was.
Stanek crossed the 20.75-meter progressive line with his first attempt. Only one centimeter, but taking part in Sunday's finale has secured himself.
"We did not do that, but I hoped it would fly over the line. Fortunately, I measured it well there.I am pleased, "said the Czech strongman, but he felt he had to show better performances among the best twelve.
"I did not go far enough: I was afraid I would not go," he added in an interview with our reporter.
The New Zealander made the first attempt at 22.14 meters, surpassing this year's maximum. Other favorites were Germans Storle, Polak Haratyk and leader of this year's tables of American Crouser.
On the other hand, Ladislav Prášil was among the best twelve. The fifth man champion in Moscow 2013 threw the ball with the first attempt at 20.04. Better did not finish and ends in 18th place.
Saturday's morning program also kicked off the squad and the Czech representatives.Eliska Klucinova in the second 100m hurdles finish finished in seventh place at 14.03 and scored 974 points. A little better was Catherine Cacha, who scored 1,069 points in time 13,37.
At the height of the Czechs, however, the roles were played. The guy in the sector glowed and tried to approach a personal centimeter of only 1.89 meters. However, USK knocked down three times in a row and finally finished with 1.86 and with a third place scored 1054 points. Before the evening program she moved from 23.bars in the sixth position.
Kateřina Cachová went down the bar at 1.74 meters (903 points) and went down to thirteenth place.
He introduced himself at the first run in the ninth, extreme runway. Pavel Maslak, in a quadruple competition, took fourth place at this year's maximum of 45.10 seconds. Only one straight line escaped his direct advance to the semifinals.
And so the Czech Ranger long waited for the performance of other competitors. The three best runners from each race were added to six of the best times.
And the world champion was among them.As the worst man ever, of those who have not made a direct move.
"I expected that the start will be fast. We ran a decent time, I'm happy, "he said for Czech Television.
And what kind of tactics will the semi-finals take?
"I think I'm going to go to the semifinals tactically," he said in an interview.
The world records recorder Wayne van Niekerk and American Kerley did not catch up.
Hammer for the first time in the finals
Up until now in London, the Katerina Šafránková hammerman succeeded. The qualifying limit did not meet, but after two unsuccessful attempts she threw the third 70,67 m, which eventually finished in 11th place.Twelve racers went from two groups to the final.
She ranked fifth in her group. In the other, she overcame her six rivals.
"I can not be quite sure, but I'm relatively satisfied. I think it's not such a bad throw and could be pushed there, "she said before the start of group B.
" I'm not such a bastard who would go and do not care. Maybe I will be stressed unnecessarily and put on every roll and push it down to keep it there. But I'm not afraid so much, "she added.
At its Olympic premiere in London last year in Rio de Janeiro, it was not the first time in the world championship.