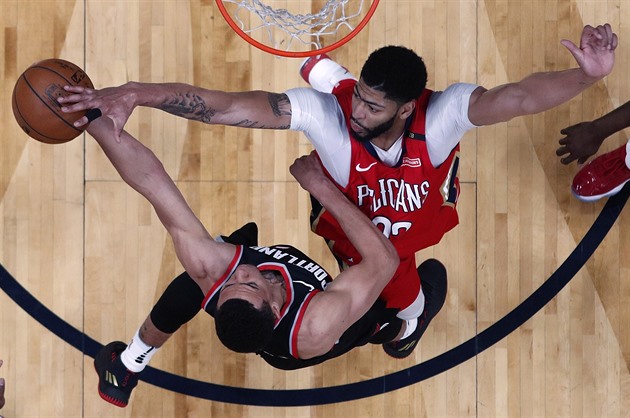 New Orleans made the first round of play off only for the second time, the first time he did it ten years ago. In 2008, Dallas was eliminated, then dropped out of San Antonio.
Anthony Davis and Jrue Holiday have also entered the history of the best competition – the first scored 47 points, the other 41 points. A total of 88 points is the match-up of the best shot in the play-off of two players – Boston John Havlicko and Jo Jo White from 1973. They left the 87-point evening of Michael Jordan and Scottie Pippen in 1992. It is only the sixth in history, when teammates beat 40 points.
Davis's new playoff personal record helped 33 points in the second half and 12 in the last five minutes. He also recorded 11 rebounds and three blocks.Holiday got the most out of it, thanks to 27 points from the second half, with eight assists (but also seven losses). Both are among the five best players of this year's play off.
The pelicans in the third quarter shone 42 points and have a 15-point lead. Blazers did not discourage this from a big bump, and five minutes before the end, Al-Farouq Aminu approached a single point. But that only encouraged Davis to the final act of his big show. Rajon Rondo helped with the help of 16 assists but also seven points and seven rebounds, E'Twaun Moore 14 points and Nikola Mirotič double double for 10 points and 11 rebounds and three blocks to it.
(Marny) Portland led by CJ McCollum with 38 points, Al-Farouq Aminu managed 27 points.Damian Lillard scored 19 points (and this time he was behind expectations), and Jusuf Nurkič has earned 18 points plus 11 rebounds. Evan Turner got 15 points. Blazers played a very good match with 53 percent firing and only six losses, but it was not enough for the Pelicans.
"This was probably the best Davis match for this team. He just did not want us to lose, "said coach winner Alvin Gentry. "It was enough for guys to serve the balls and they delivered them to the right place. At the moment I could not wish for two better teammates, "said Rondo, who scored 53 assists in four matches.
Miami, after much of the match with Philadelphia, led in the middle of the third quarter to a twelve-point blockbuster.But the Sixers showed a 14: 0 point at the turn of the third and fourth parts and turned the duel. Heat did not lend the line.
The main character of the winning team was thirty-three-year-old J. J. Redick, who scored 24 points, including several shots in the last moments of the duel. First 30 seconds before the end of the three-point shot with a pass, he returned to his team a three-point lead and then managed the penalty throw.
Twenty-one-year-old newcomer, Ben Simmons, finally got the triple double in play-off, adding 13 rebounds and 10 assists (plus four gains) to 17 points.
Simmons is only the fifth newcomer to get the NBA play off.And the first since 1980 and the famed performances of Magic Johnson.
Overall, Sixers had 57 balls compared to 43 in Heat. That's why they survived 26 of their losses (eight of them were committed by Embiid, seven Simmons) and only seven triplets for 31 attempts. The best matchmaker was Miami veteran Dwyane Wade with 25 points, 12 of them scored in final quarter. Goran Dragič added 20 points, in the last 18 minutes of the match, after a strong Covington foul, has failed.The hardness of the match was even more plagued by his teammate, Justise Winslow, who now has four stitches in his face.
Andrew Wiggins, who scored 20 points, to its standard, 18 points and 16 rebounds. Derrick Rose took 17 points in the role of a substitute when he acted with activity – he had 16 shots in 21 minutes, half turned. Rockets did not score 29 points, seven rebounds and seven assists from James Harden or 17 points and six assists by Chris Paul. Eric Gordon added 15 points, Ryan Anderson returned 12 points after injured ankle and Gerald Green managed 10 points.Clint Chapel, who played Towns in the previous games, scored seven points and 11 rebounds. Besides Simmons, the Spanish trio Ricky Rubio was also working on the first triple double in play. His 26 points, 11 rebounds and 10 assists have supported Utah over Oklahoma City 115: 102. Jazz is now leading 2-1 in the games.
Rubio followed up on John Stockton, who scored a triple double in 2001 against Dallas. Since that time, no Utah players have played in the play off – until now.
Rubi was greatly helped by the newcomer Donovan Mitchell as the author of 22 points and 11 rebounds. Joe Ingles planted five trophies and 21 points and Rudy Gobert scored 18 points plus 12 rebounds.Derrick Favors got 11 points.
The Thunder's mature performance is only 23 points away from Paul George. Russell Westbrook scored only five out of 17 attempts and scored 14 points, 11 rebounds and nine assists but also eight losses. He scored less in play for the last time in 2012. Carmelo Anthony and Raymond Felton also scored 14 points.