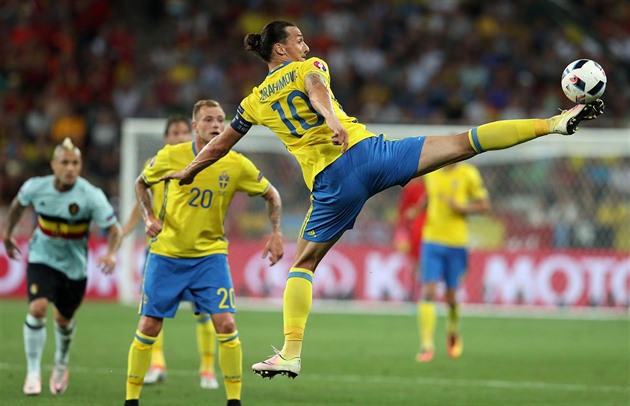 Just remember the goals in the interstate matches.
Pornichet, a tens of thousands of cities on the Atlantic coast, where Swedish footballers had a base during the Euro, will be slowly undressing from yellow and blue. They will clean up the hanging flags of all sizes decorated with shops, restaurants or the town hall.
On Thursday the police were guarding the narrow aisle from which they arrived to their luxury hotel for the last time.
Sweden's European Championship 2016 ends and Ibrahimovic's era of representation ends. True, goalkeeper Isaksson and midfielder Källström are saying goodbye, but still…"In a country as small as Sweden, no such player will be.He is unique, exceptional, "said coach Erik Hamrén.
With 62 hits, he is the best team scorer, playing 116 games. However, the last three on the euro remained without goals: the Irish gave it themselves, went out against Italy, on Wednesday against Belgium too. "It's a shame because we had the chance. I am disappointed with the elimination, "he said. The fans at the Nice stadium applauded standing, the ovations belonged to Zlatan, but they weren't dignified for a great departure anyway. it is strange to me. It will be weird when the team is back and I won't be there anymore. But I have beautiful memories. "
Emotions hid for fans:" I conquered Sweden, this is my country.Thanks to the Swedes, I would never have fulfilled my dreams without you. You will always be in my blue and yellow heart. "
Why does it end? He is 34 years old and does not look like a big triumph at the international level. "It's another victim of George Weah or George Best's syndrome." If he was born in another country, his national career could have been much richer, "said French reporter Jose Barroso, who concentrated on the matches of Saint-Germain in Paris, where Ibrahimovic was still active. For a quite finished thing, his possible transfer to Manchester United is taken.Previously, he was in Malmö, Ajax, Juventus, Inter, Barcelona and AC Milan.
At club level, he will continue to enjoy exceptional pieces, provoke statements about his character, and surprise the stories that line his life .
The son of a Balkan parent who fled to Sweden for war and inherited an explosive nature grew up in Rosengärd, a housing estate in Malmö full of immigrants.
He admits how he had no respect for how he slipped a bus up the hill as he stole the wheels, as he later drove away and, thanks to his executive car, drove the police who were chasing him for speed. How to play the night online games and indulge in shooting games.Before the Euro, he also went to French President Hollanda: "I did more for France."
But enough, the goals are better, right? They are definitely enough in the introduction to the demo.