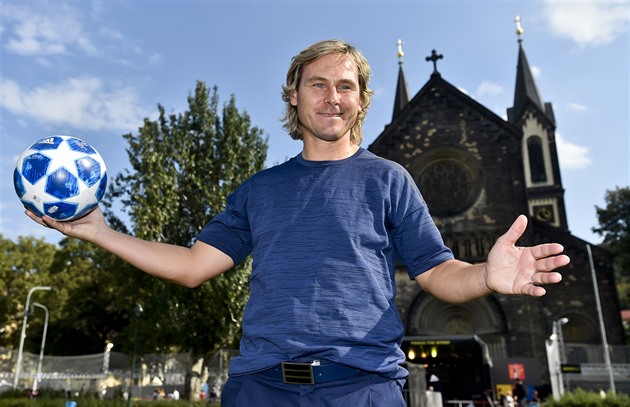 It was bought from Real Madrid, which will come to Pilsen in the autumn, unlike Juventus, in the shiny Champions League. "And Viktorka not only enjoys beautiful matches with him," Nedvěd suspects.
"I too wanted her to join the group. Although at the time I told Plzenaks, they told me I wanted them just for certain six points. But that was not the case. For me it would be great to go back there as a representative of Juventus in the Champions League, "he told reporters during an exceptional visit to the Czech Republic.He was a guest in a small football tournament, and while a few dozen yards behind him, on the roadside, the boys were scoring goals, he depicted how Cristian Ronald's super-monitored transfer was born.
"It all came up in the head of our sports director . We were just at home when he suggested it to me and our president. "
That it is presumptuous? Crazy idea? "No, we liked it. It was a lot of energy and enthusiasm, we knew we were doing the right thing, "Nedvěd said." We realized that if we wanted to improve as Juventus, we had to get players better than those what belongs to our foundation. And it really isn't easy.It has made us feel that the buy-out clause in the Cristian contract has just dropped to a hundred million, which has become real for us, "said Nedvěd.
For Juventus, it's a leap, moving to another unknown level. Despite the fact that Ronaldo, one of the best attackers in the world, did not succeed in the opening competition against Chiev, Lazio or Parma.
And impatient fans are waiting.
"You understand that Is this criticizing him already? That's almost unreal, "Nedvěd smiled. "He also needs some time, the Italian way of football is really different than anywhere in Europe.It's harder to score goals, "warned former great midfielder, Golden Ball holder, Juventus legend…
As a player he won two titles with him, but the Turin club in Italy has been looking for competition in vain in recent years, when Nedved had already promoted to the office. He won the Italian title seven times in a row, and he won the Cup four times in a row.
"But our long-term goal is to win the Champions League, and we believe that Cristiano will help us with that." Ronaldo seems to believe that too.
"We didn't have to persuade him to do anything, he wanted to move to Juventus, picked us.It is an honor for us to have a leader in the cadre that everyone follows. At the same time, in private he is a completely normal boy who only likes to win and he likes the best in everything, "Nedvěd added.